Providing Professional And Friendly Health & Safety Advice And Training to Meet Your Specific Needs
Contact Us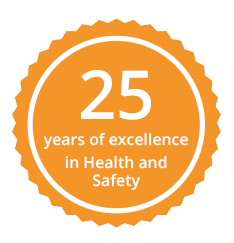 What We Do
The Leading Health & Safety Consultants & Trainers in Leeds
Health and Safety Consultants in Leeds, Bradford and the Yorkshire Area
SMSE Health and Safety Consultants are based near Leeds and have been established for 25 years. We are one of the longest established independent Health and Safety Consultancies in the North of England. We have been providing Health and Safety Consultancy in Leeds, Bradford and Yorkshire throughout that time and provide a bespoke personal Health and Safety advice service to all our customers. We are small enough to care, yet large enough to cope.
Our Health and Safety Consultants provide a first class service and are registered on the Health and Safety Executives Occupational Safety and Health Consultants Register.
We provide a wide range of Health and Safety Training courses, which can be held at your premises or at another venue. Our open IOSH Managing Safety Course held in Leeds, Yorkshire are particularly successful. Please visit our Book Training page to see the full range of courses coming up.
Our approach is to not only help you identify your Health and Safety objectives, but also assist you in achieving them.
To start your journey with us and talk about your needs, or obtain a quotation, please fill in the contact form below, or CALL US NOW on 0845 224 0028
Health and Safety Consultants
If you're looking for Health and Safety Consultants that work with your business to achieve measurable results and improvements in your Health and Safety Management, SMSE can help.
Health and Safety Consultancy Services
We offer a range of Health and Safety Consultancy services from competent person service to Health and Safety audits.
Our services include:
Health and Safety policy preparation.
Health and Safety compliance audits.
Health and Safety Awareness training.
In-house bespoke training.
Method Statement and Safety Procedures and for specific activities.
Up to date Safety Advice and documentation assistance to help you to achieve contractor approved status.
Our Health and Safety Consultant can also help with on site Risk Assessments for a wide range of hazards including:
Machinery Risk Assessments
Guarding assessments
Fire Risk Assessments
Manual handling & PUWER (Provision Use of Work Equipment Regs)
Legionella
Workplace transport & LOLER (Lifting Operations and Lifting Equipment Regs)
COSHH & DSEAR (Dangerous Substances & Explosive Atmospheres Regs)
Health and Safety Competent Person Service
Get a dedicated Health and Safety Consultant providing continual support and the latest Health and Safety advice with our Health and Safety Competent Person Service.
Safety Management Services Europe are specialists in:
Happy Clients
Testimonials
We have worked with SMSE for the past 5 years, and have developed an excellent working relationship with them. We have found the company extremely professional and their service is excellent. In particular their Health & Safety Practitioner Consultant, Tony Barron has been absolutely fantastic, he could not be more approachable or helpful.
Therefore, I would have no hesitation in recommending SMSE to any prospective client who insists on a high level of professionalism and a quality service.
- Carol Waites, Office Manager, A-One Feed Supplements Ltd
Andy has provided us with excellent service over the last three years. We have attended courses he runs, he has run courses for our staff in our very small premises, his annual audits are excellent. What has been really useful is that he is available to give quick advice by email and phone whenever we have needed something urgently, for example, an unexpected request in a tender document with a deadline, a query about what documentation should be on site when we are installing a library interior. Andy's expertise is deep and continually updating and he has a good way of getting this across to a wide range of different staff in our company. He is also realistic and has taken us on stages over a three year period from basic Health and Safety documentation to CHAS registration later this year. I would recommend Andy unreservedly. He gives a high level of service, is very efficient and is always friendly and helpful in manner. He listens well and can adapt his advice to the specific circumstances of a client with tact and accuracy.
- Rachel Van Riel, Director – Opening the Book
Our business templating and fitting granite & quartz worktops to customers in the construction industry, means our employees have to be CSCS registered and be aware of all aspects of Health & Safety.
Due to the forthcoming changes to CSCS regulations, SMSE have been very efficient in organising and providing IOSH courses so that our employees are all well trained in aspects of health & safety and this in turn will lead to their applications and renewals of their CSCS cards proceeding without any problems.
Tony & Vanessa have organised the courses at our premises and one of our depots to reduce disruption to the workforce and carried out the courses in an efficient, well organised manner.
- Chris Caffrey, Office Manager, Marble Building Products Ltd
I can confirm that Keith France Electrical Contractor Ltd have used the services of SMS Europe since July 2007 for all our Health and Safety requirements. Our Health and Safety Executive Andy Langham carries out all our risk assessments, method statements, fire risk assessment, CHAS and Safe Contractor applications and site visits together with any other Health and Safety requirements which may arise. Andy is very thorough in his work and a pleasure to work alongside. He certainly has his client's interests at heart. He always goes that extra mile to help when required. I would highly recommend SMS Europe.
- Keith France Director, Keith France Electrical Contractor Limited
We have been using the services of SMSE for the past five years and have every intention of continuing this excellent working relationship long into the future.
The team at SMSE are extremely knowledgeable, the support and guidance we have received as a company has been above and beyond anything we could have anticipated.
I must single out Tony Barron who has been our appointed H & S consultant for three years, the continuity of service, rapid turnaround of very detailed information and most importantly his understanding of the up to date regulations in this perpetually evolving legislation have been invaluable to us.
- Christian Higgins, Director, Lonsdale Contracts Ltd