Providing Professional And Friendly Health & Safety Advice And Training to Meet Your Specific Needs
Contact Us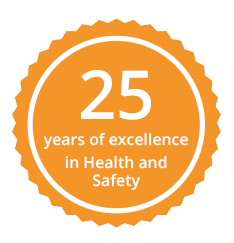 What We Do
Health & Safety Consultants & Trainers
Health and Safety Consultants

SMSE Health and Safety Consultants are based near Leeds and have been established 25 years. We are one of the longest established independent Health and Safety Consultancies in the North of England. We have been providing Health and Safety Consultancy in Yorkshire and the UK throughout that time and provide a bespoke personal Health and Safety advice service to all our customers. We are small enough to care, yet large enough to cope.
Our Health and Safety Consultants provide a first class service and are registered on the Health and Safety Executives Occupational Safety and Health Consultants Register.
We provide a wide range of Health and Safety Training courses, which can be held at your premises or at another venue. Our open IOSH Managing Safety Course held in Leeds, Yorkshire are particularly successful. Please visit our Book Training page to see the full range of courses coming up.
Our approach is to not only help you identify your Health and Safety objectives, but also assist you in achieving them.
To start your journey with us and talk about your needs, or obtain a quotation, please fill in the contact form below, or CALL US NOW on 0845 224 0028
Health and Safety Consultants
If you're looking for Health and Safety Consultants that work with your business to achieve measurable results and improvements in your Health and Safety Management, SMSE can help.
Health and Safety Consultancy Services
We offer a range of Health and Safety Consultancy services from competent person service to Health and Safety audits.
Our services include:
Health and Safety policy preparation.
Safety Audits.
Health and Safety compliance audits.
Health and Safety Awareness training.
In-house bespoke training.
Method Statement and Safety Procedures and for specific activities.
Up to date Safety Advice and documentation assistance to help you to achieve contractor approved status.
Our Health and Safety Consultant can also help with on site Risk Assessments for a wide range of hazards including:
Machinery Risk Assessments
Guarding assessments
Fire Risk Assessments
Manual handling & PUWER (Provision Use of Work Equipment Regs)
Legionella
Workplace transport & LOLER (Lifting Operations and Lifting Equipment Regs)
COSHH & DSEAR (Dangerous Substances & Explosive Atmospheres Regs)
Health and Safety Competent Person Service
Get a dedicated Health and Safety Consultant providing continual support and the latest Health and Safety advice with our Health and Safety Competent Person Service.
Safety Management Services Europe are specialists in:
Happy Clients
Testimonials
Andy has provided us with excellent service over the last three years. We have attended courses he runs, he has run courses for our staff in our very small premises, his annual audits are excellent. What has been really useful is that he is available to give quick advice by email and phone whenever we have needed something urgently, for example, an unexpected request in a tender document with a deadline, a query about what documentation should be on site when we are installing a library interior. Andy's expertise is deep and continually updating and he has a good way of getting this across to a wide range of different staff in our company. He is also realistic and has taken us on stages over a three year period from basic Health and Safety documentation to CHAS registration later this year. I would recommend Andy unreservedly. He gives a high level of service, is very efficient and is always friendly and helpful in manner. He listens well and can adapt his advice to the specific circumstances of a client with tact and accuracy.
- Rachel Van Riel, Director – Opening the Book
We have been using the services of SMSE for the past five years and have every intention of continuing this excellent working relationship long into the future.
The team at SMSE are extremely knowledgeable, the support and guidance we have received as a company has been above and beyond anything we could have anticipated.
I must single out Tony Barron who has been our appointed H & S consultant for three years, the continuity of service, rapid turnaround of very detailed information and most importantly his understanding of the up to date regulations in this perpetually evolving legislation have been invaluable to us.
- Christian Higgins, Director, Lonsdale Contracts Ltd
Manual Handling and Work at Height Training was delivered to all staff at Whetley Academy. The training we received was of a very high quality being both relevant and well presented. It has had a very positive impact on our workplace ensuring a much safer environment for all.
- Donna Brown, Vice Principal, Whetley Academy
Since 2007 SMSE has provided their considerable expertise as consultants in Health and Safety for The York Glaziers Trust. As we work day to day with complex and hazardous materials such as lead and glass, and are frequently working at height it is essential that we are up to date wit the best training, risk assessment and COSHH procedures, best practise and guidelines. The service that SMSE provides fully supports and informs our staff, saves us valuable time, and enables us to conform to legal guidelines. SMSE offers great support whenever we need it, and their staff are friendly, expert and professional. We have not looked back from employing SMSE on a consultancy basis and strongly recommend their services to other companies looking for peace of mind with regard to Health and Safety in the workplace.
- Nick Teed, Senior Conservator – The York Glaziers Trust
My Managers and myself just wanted to say a huge thank you to your Company and particularly Sophie, for all the hard work in helping us achieve our CHAS accreditation. Sophie has been very helpful, approachable and professional but friendly throughout the process. We are not always the most organised and we started out with almost nothing in place to gain the accreditation but Sophie has been a star in preparing various forms etc for us to use. We will no doubt be working with your company again in the future.
Many Thanks
- Yvonne, Dave & Paul RDV Contracting Ltd
Our Training
Upcoming Courses
No upcoming courses