Providing professional and friendly Health and Safety advice and training to meet your specific needs
Contact Us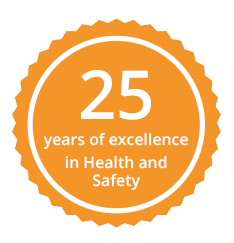 What We Do
Health & Safety Consultants & Trainers
SMS Europe have been established 25 years and are one of the longest established independent Health and Safety Consultancies in the North of England. We have been providing Health and Safety Consultancy in Yorkshire and the UK throughout that time and provide a bespoke personal Health and Safety advice service to all our customers. We are small enough to care, yet large enough to cope.
Our Health and Safety Consultants provide a first class service and are registered on the Health and Safety Executives Occupational Safety and Health Consultants Register.
We provide a wide range of Health and Safety Training courses, which can be held at your premises or at another venue. Our open IOSH Managing Safety Course held in Leeds, Yorkshire are particularly successful. Please visit our Book Training page to see the full range of courses coming up.
Safety Management Services Europe are specialists in:
Happy Clients
Testimonials
Manual Handling and Work at Height Training was delivered to all staff at Whetley Academy. The training we received was of a very high quality being both relevant and well presented. It has had a very positive impact on our workplace ensuring a much safer environment for all.
- Donna Brown, Vice Principal, Whetley Academy
Since 2007 SMSE has provided their considerable expertise as consultants in Health and Safety for The York Glaziers Trust. As we work day to day with complex and hazardous materials such as lead and glass, and are frequently working at height it is essential that we are up to date wit the best training, risk assessment and COSHH procedures, best practise and guidelines. The service that SMSE provides fully supports and informs our staff, saves us valuable time, and enables us to conform to legal guidelines. SMSE offers great support whenever we need it, and their staff are friendly, expert and professional. We have not looked back from employing SMSE on a consultancy basis and strongly recommend their services to other companies looking for peace of mind with regard to Health and Safety in the workplace.
- Nick Teed, Senior Conservator – The York Glaziers Trust
Andy has provided us with excellent service over the last three years. We have attended courses he runs, he has run courses for our staff in our very small premises, his annual audits are excellent. What has been really useful is that he is available to give quick advice by email and phone whenever we have needed something urgently, for example, an unexpected request in a tender document with a deadline, a query about what documentation should be on site when we are installing a library interior. Andy's expertise is deep and continually updating and he has a good way of getting this across to a wide range of different staff in our company. He is also realistic and has taken us on stages over a three year period from basic Health and Safety documentation to CHAS registration later this year. I would recommend Andy unreservedly. He gives a high level of service, is very efficient and is always friendly and helpful in manner. He listens well and can adapt his advice to the specific circumstances of a client with tact and accuracy.
- Rachel Van Riel, Director – Opening the Book
We asked Andy to provide us with specific Risk Assessment training for our engineer's to ensure they have the necessary tools to asses risk and the confidence to rate everything accordingly.
Andy is an excellent trainer with a detailed knowledge of health and safety, he engages the staff and breaks down each area of the training so it is easier to understand and makes it an enjoyable experience. Understanding is checked at regular intervals to ensure that it is all going in, there is no silly question.
To quote my engineer who said " To be honest I thought the training would be boring but to be honest it was really interesting and I really enjoyed learning about Health & Safety and how to carry out risk assessment's".
- Emma Armitage, Director, Excel Water Ltd
We had dealt with a number of Health and Safety consultants over the years and as an SME in the construction industry we felt they were never able to successfully meet our needs. SMSE however, were a breath of fresh air. Their hands on approach and attention to detail consistently meet our requirements. They are always available to answer questions and eliminate confusion. SMSE have provided a friendly and professional solution for us.
- Luke Pierce, Marketing Director, ABi Garage Doors Ltd